Salmon Stewardship 2016: Visiting the Tofino Hatchery
Fish stocks and proper stewardship are directly correlated to the health of sportfishing here in Tofino. Simply put, strong fish populations are in everyone's best interest — from the guides & clients, to all other animals or organisms dependant on salmon as a food source. When salmon prosper, so do many other aspects of our lives here in British Columbia.
Given this simple truth, Wardowest believes in supporting the work of individuals dedicated to building strong and healthy native salmon stocks in Clayoquot Sound's river systems. Individuals such as Doug Palfrey of the Tofino Salmon Enhancement Society has dedicated a large portion of his life to restoring salmon rivers in Tofino and Clayoquot Sound.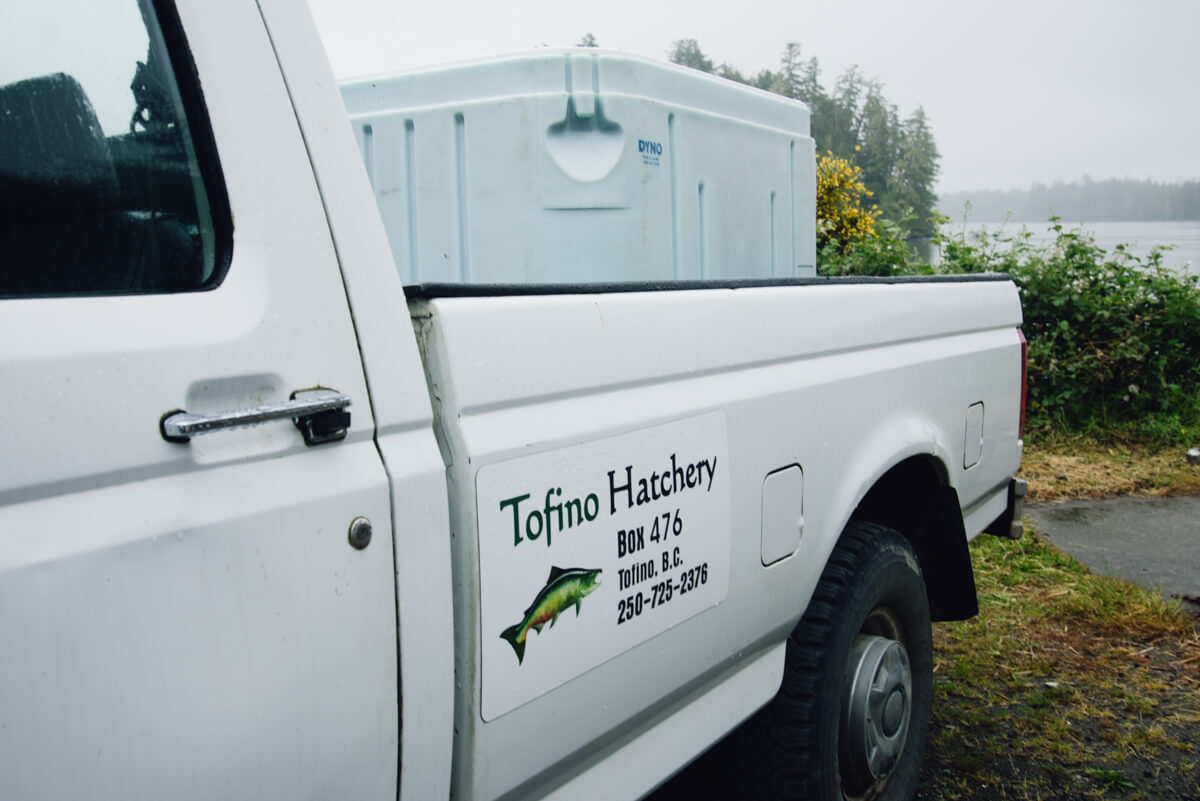 Before Doug Palfrey and his group started their work 30 years ago, the Chinook stocks in Clayoquot Sound were at the precipice of extinction. Today, with the help of the organization's volunteers, Chinook and Coho stocks in the Tranquil, Bedwell, and Cypre river systems have markedly improved.
Based on the group's data, as few as 40 Chinook spawned in the Bedwell River the year they started work. By 2013, their efforts helped the run grow to 600. It dropped to 289 in 2015, however, after the group stopped restoration on the Bedwell and moved to work on another river.
The Tranquil River, too, had a run of about 100 Chinook when salmon enhancement work began, and by the early 2000's it had increased to 2,100 spawners. But after the group once again moved it's volunteers from the Tranquil to work on the Cypre River, Tranquil stocks began to fall again. These up and down results show that enhancement efforts can rebuild stocks, but also that that more work and increased funding is necessary.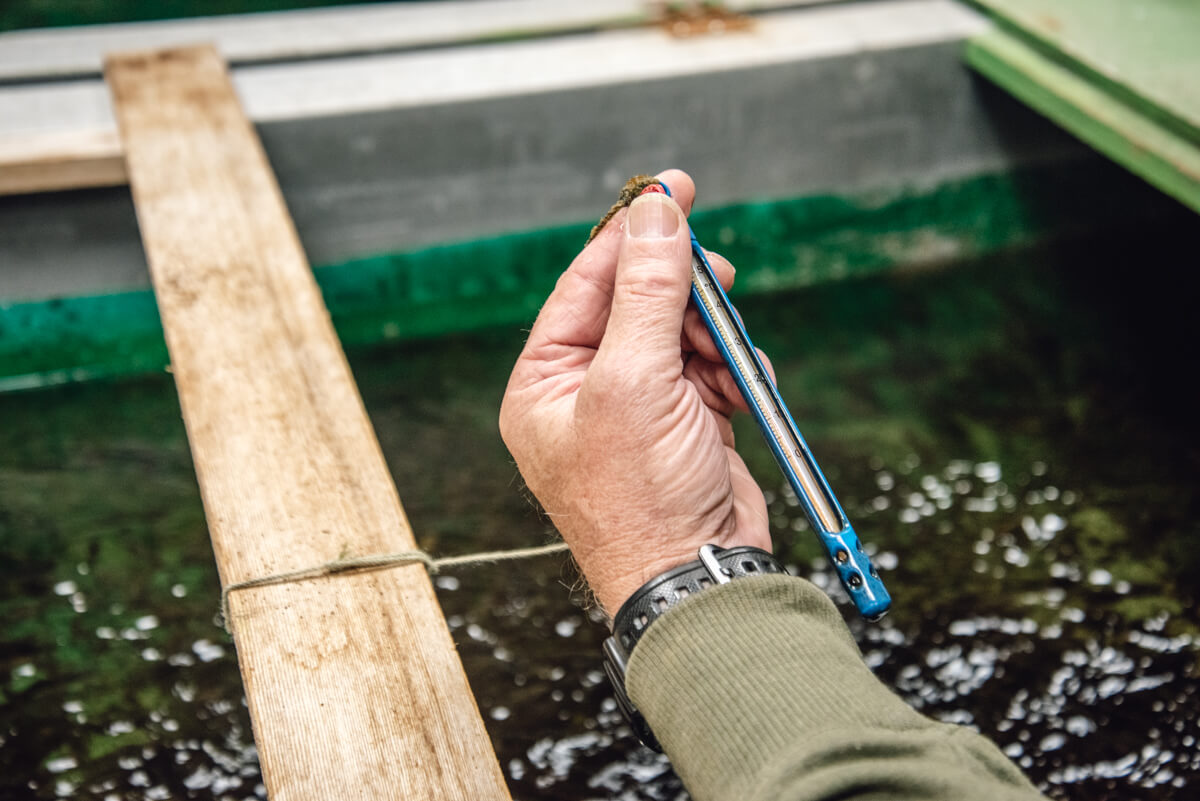 Monitoring water temperature at the Tofino Fish Hatchery
Late last year we made a trip to the Tofino Hatchery to speak with Doug and pledge our annual donation. He was eager to show us around and discuss the current state of salmon restoration efforts in Clayoquot Sound.
According to Doug, this year they were only able to produce a viable Coho hatch due to a lack of Chinook spawners in the rivers. Even still, the work of the group was fully on display. As we peer down into the holding tanks, thousands of little Coho fry, a mere 6-8 weeks old, dance and dart around in chaotic movement. It's amazing to think that in less than 4-5 years, fully grown and now ocean-hardened, we could very well catch one of these beautiful fish while sportfishing in Tofino.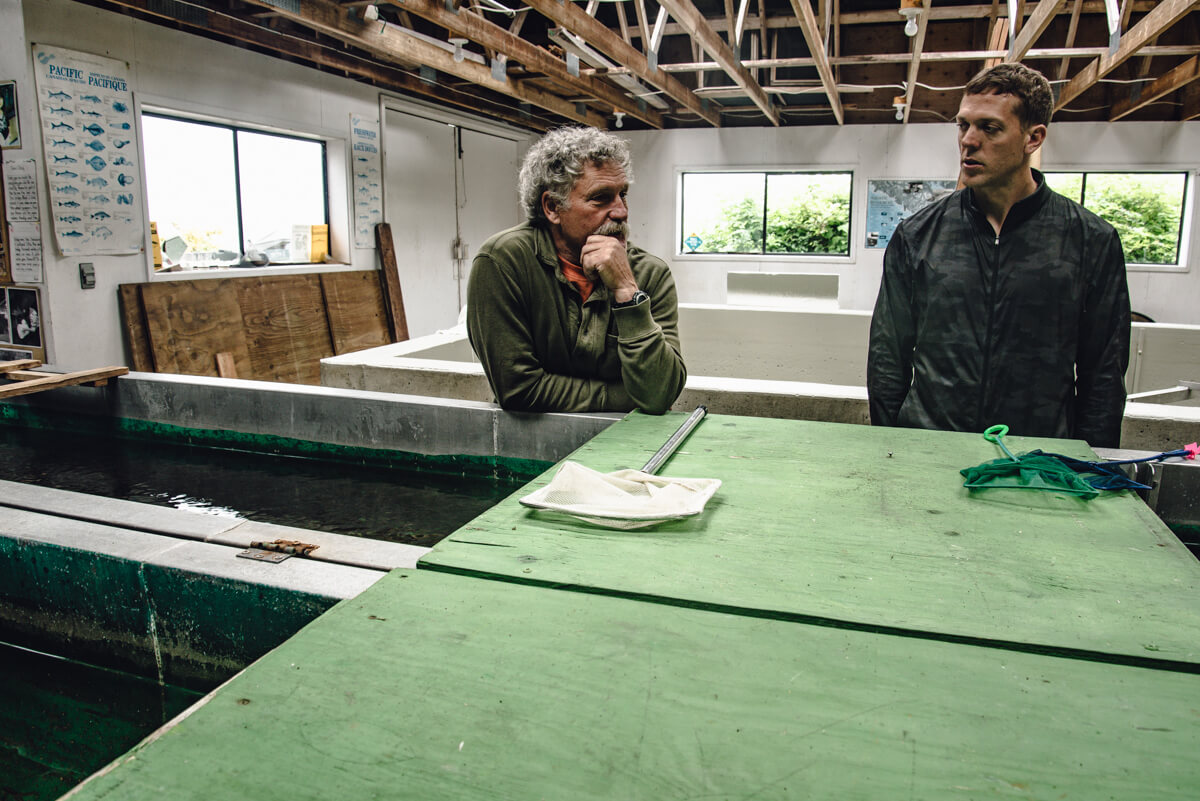 Doug Palfrey (left) speaks with Dave Ward (right) at the Tofino Hatchery.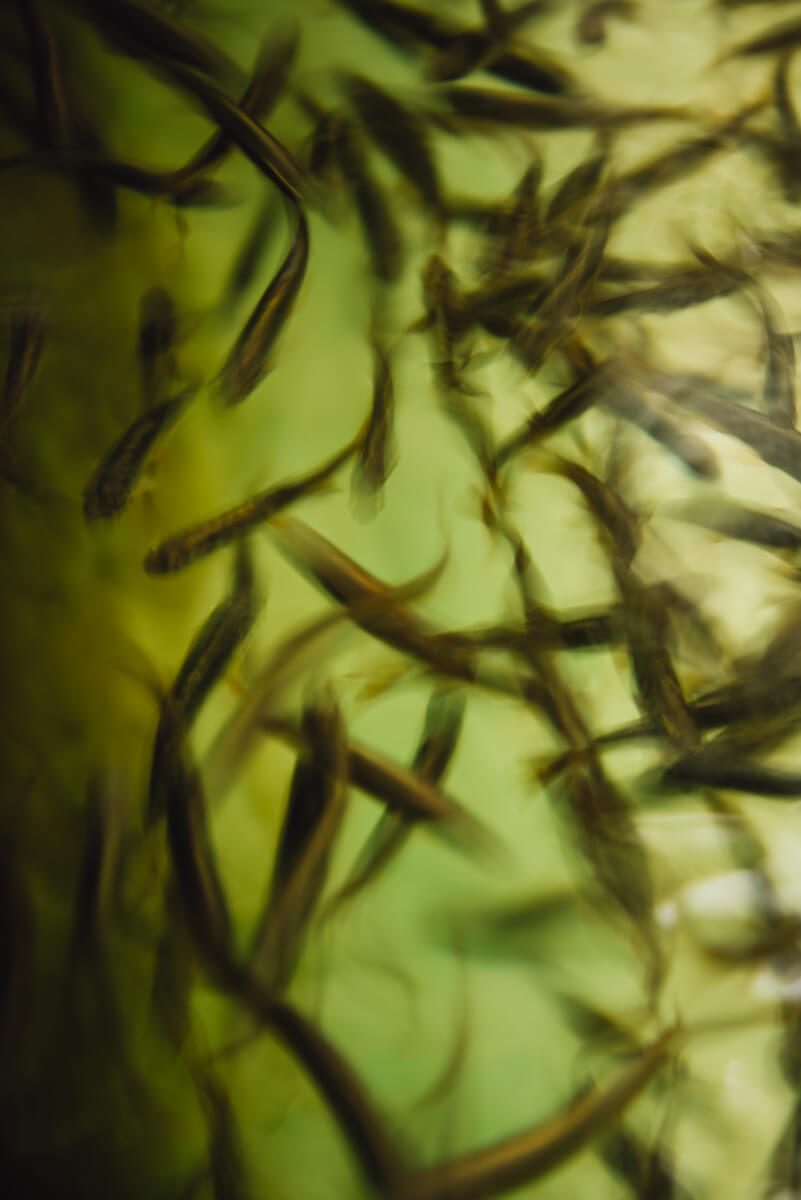 Hundreds of future Clayoquot Sound Coho Salmon Fry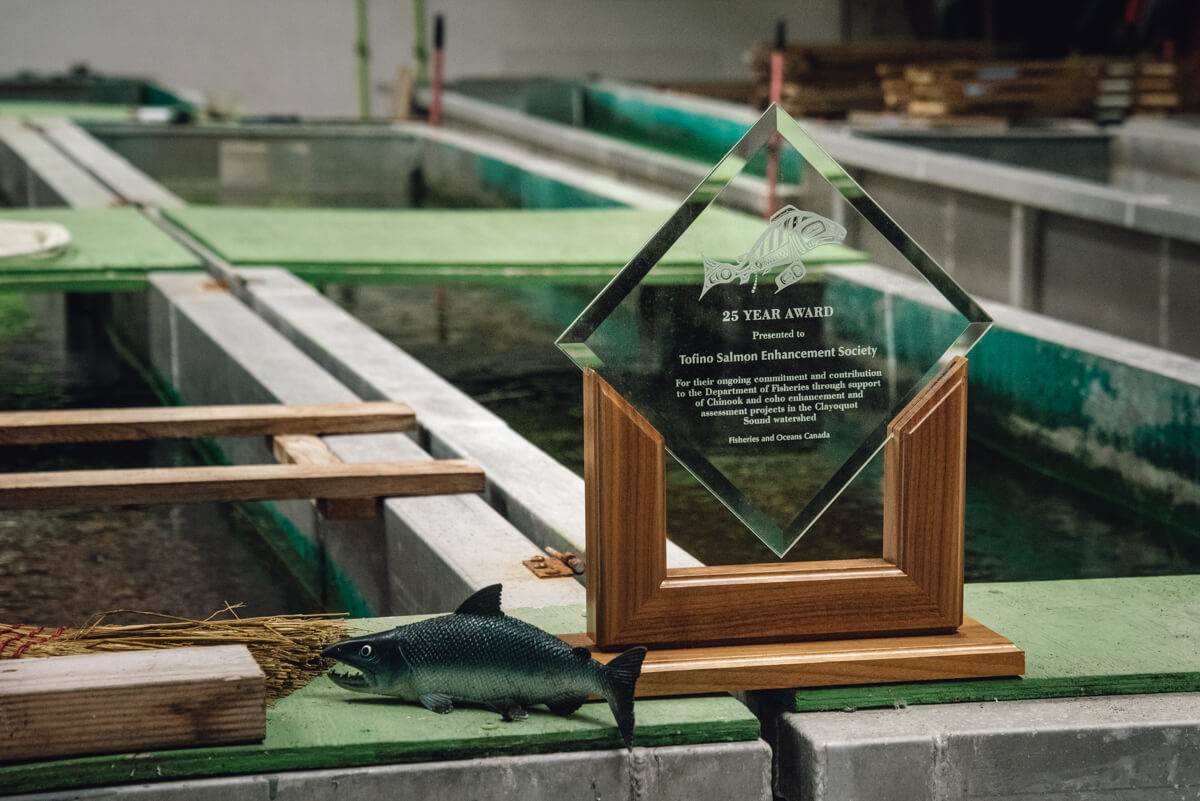 25 year Award for dedication to Chinook and coho enhancement programs in Clayoquot Sound

While the tanks full of fry represent future promise for Clayoquot Sound, the group's future is not so certain. Doug's facilities are humble, but the funding he receives from the Department of Fisheries and Oceans is not yet equal to the work required on a year-in-year-out basis. Of the $50,000 required to meet the group's Chinook and Coho restoration targets in the Bedwell, Tranquil and Cypre river systems, only $7000 is government funded (via the DFO's Salmonid Enhancement Program).
As Doug stated in an interview with the Globe and Mail newspaper last year, "I'm just hoping SEP comes to their senses and I can move forward with a plan. I'd like to work on all three systems, but with $7,000 that's not realistic… That keeps the doors of the hatchery open. By the time you buy your fish food and insure your old rotten truck, pay the hydro, it's gone."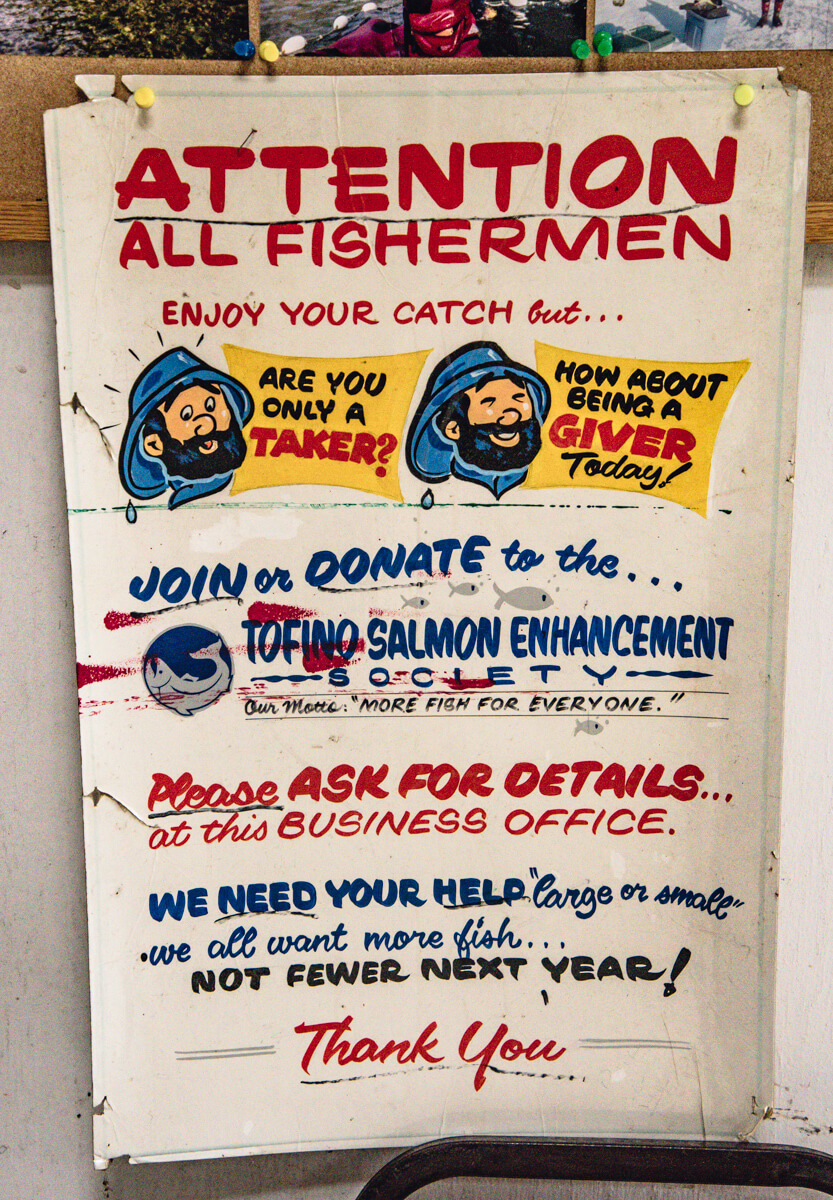 While walking around the Hatchery we spot an old promotional poster from the Tofino Salmon Enhancement Society. It reads "Are you only a taker? How about being a giver today!" It's a simple but effective message: you get out of the fishery what you put into the fishery.
Investing in efforts like Doug's should be a no-brainer, but we humans can oftentimes remain short sighted — even if the evidence clearly points to a longer term, more dedicated effort. It's now proven that salmon restoration in Clayoquot Sound is a real and obtainable goal, but it requires our donations to make it so.