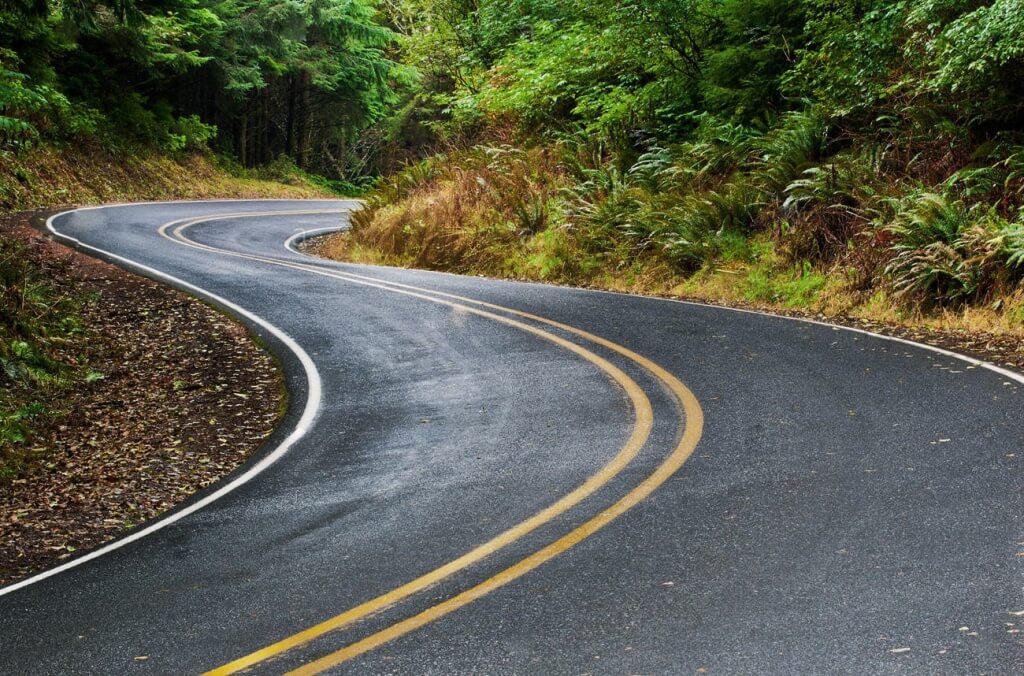 Getting Here
There are multiple ways to get to Tofino. The quickest would be to fly directly into Tofino's long beach airport (YAZ). If you are driving during the summer peak season we highly recommend that you pre-book your Ferry crossings to ensure you make the sailing you want, it is well worth the small fee! Driving takes a little longer but offers some spectacular scenery along the way.
Ferries from Vancouver
Vancouver to Nanaimo
By far the most common way to get to Tofino is by car. Visitors arriving in Vancouver by plane can rent a vehicle from YVR airport and take a BC Ferry from one of two locations close to Vancouver.
The recommended Ferry would be from Horseshoe Bay located North of Vancouver, which has a 2 hour sailing that arrives at Departure Bay in Nanaimo.
Tsawwassen Ferry Terminal is south of Vancouver and with a 2 hour sailing it arrives at Duke point which is 20 minutes south of Nanaimo. There is also a ferry to Swartz Bay which is 30 minutes north of Victoria (which is 2.5 hours south of Nanaimo and not recommended).
All drivers will pass through Nanaimo!
Nanaimo to Tofino!
Travel North on Highway 19 for 43Km (26 miles)
Take exit 60 onto Highway 4 (known as the Pacific Rim Highway).
On Highway 4 travel West for 156 kilometres (97 miles).
Recommended to stop at Cathedral Grove for an amazing walk through the forest.
Drive through Port Alberni until you reach a final junction at the bottom of a the hill, take a right at this junction.
Keep following that road West until you arrive at the Tofino/Ucluelet junction.
Turn right at the Tofino/Ucluelet junction and drive north towards Tofino for 28 kilometres (17 miles). You will drive right through Pacific Rim National Park Reserve.
Your overall travel time from Nanaimo to Tofino will range between 2.5 and 3 hours.  Safe travels!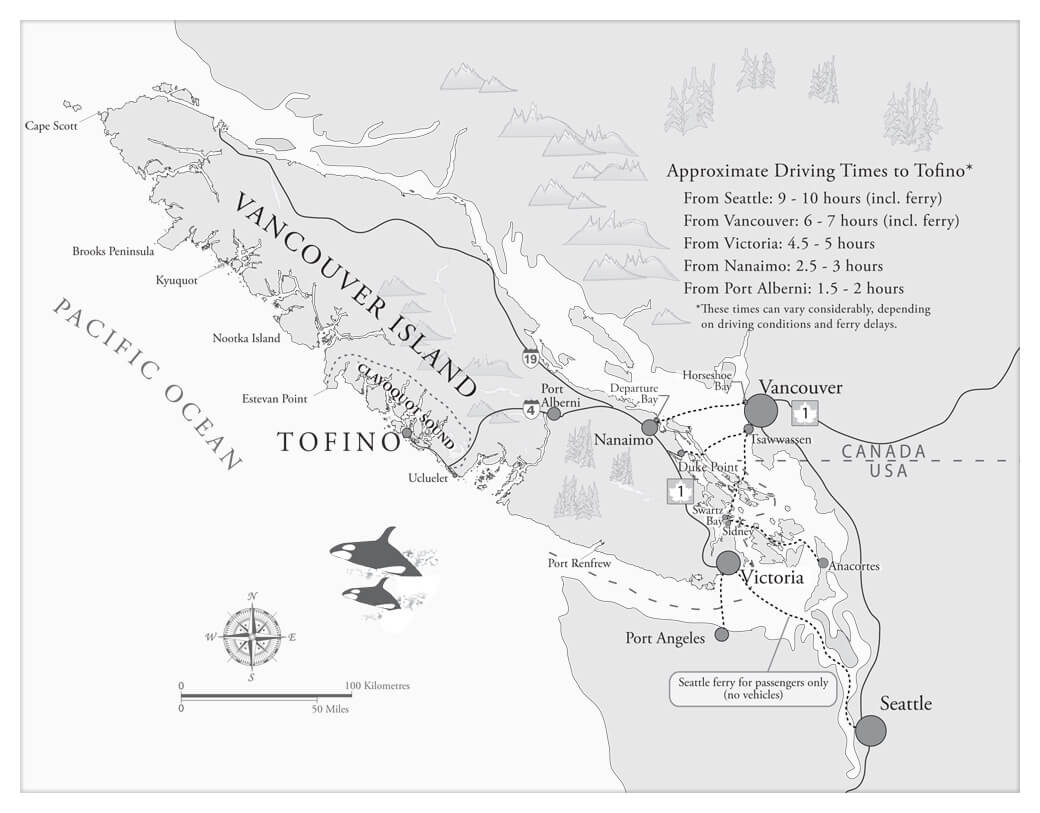 Map Credit – Tourism Tofino
If traveling by car from USA!
Driving from Seattle/Port Angeles
Traveling by car from Seattle, you will need to Ferry across the Juan de Fuca channel from the Port Angeles Ferry Terminal in Seattle to Victoria City Centre with the Black Ball Ferry Line.
From the Victoria Harbour:
Take 

Jutland Rd

 to 

Trans-Canada Hwy

/

BC-1 N

Follow the Trans-Canada Highway to Nanaimo and follow the instructions from Nanaimo below.
Safe Travels!
Save yourself some time by…
Flying from YVR South Terminal
If you wish to fly directly to Tofino, Pacific Coastal Airlines offers flights with some stunning views from YVR's South Terminal to Long Beach Airport (YAZ) in Tofino, 7 days a week. It is best to book sooner rather than later for this option, as the 45-minute flight can be weather dependent and are very popular, so check their website and give them a call. We would happily help arrange a shuttle service from the airport to our lodges for all our fishing guests too!
Flying from Vancouver Direct to the Dock!
Harbour Air Seaplanes have now also introduced a stunning route from Vancouver right to our dock at Tofino Resort and Marina which is walking distance from our Dockside Lodge. This is a 45 minute flight over one of the most beautiful landscapes in British Columbia, the cost is a little more expensive than Pacific Coastal Airlines but the experience is truly amazing, should you have a lot of luggage we would be happy to shuttle you to our Dockside Lodge too.