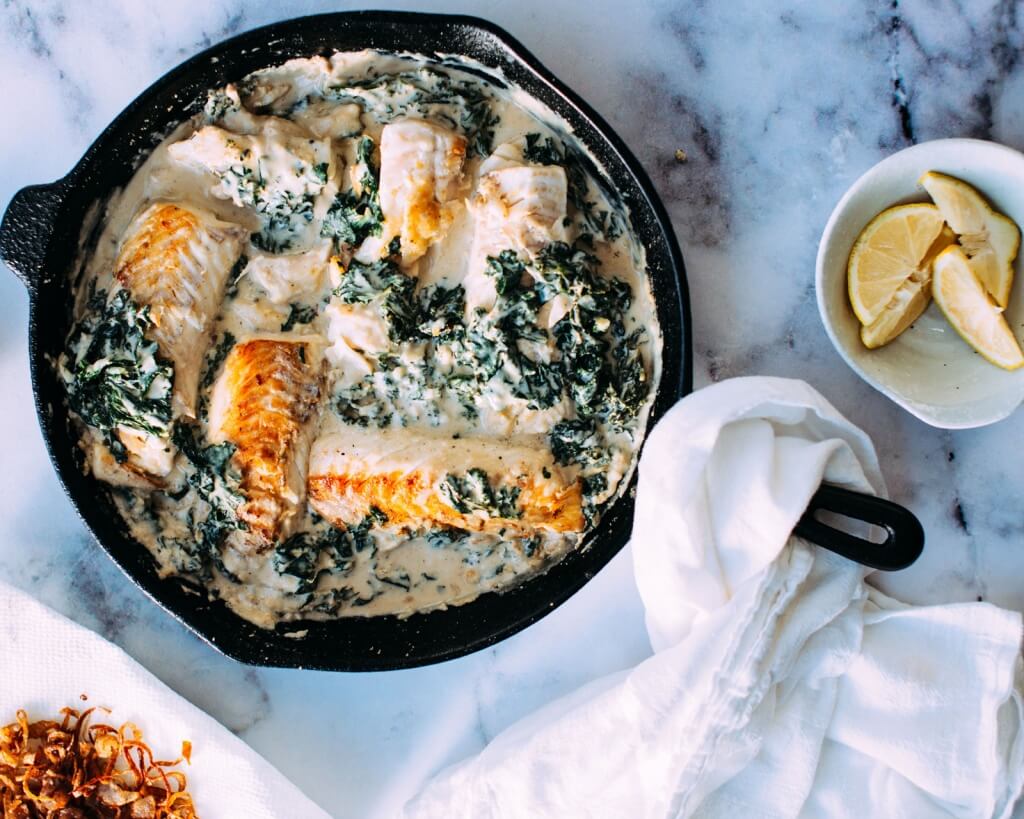 Salmon & Halibut Recipes
There's nothing better than freshly caught seafood brought to the dinner table. We here at WardoWest have a few of our favourite recipes that we would like to share with you. Why not book a fishing charter in Tofino today and make these delicious meals yourself!
Salmon with Hollandaise…
Our Favourite Salmon Dish!
Our favourite salmon dish would have to be a fine fillet of Chinook Salmon, seared in a frying pan and complimented with asparagus, hollondaise sauce and a poached egg. This is perfect brunch or dinner meal, you can even supplement the asparagus for a bagel to make a nutritious and tasty breakfast!
Ingredients to Sear the Salmon:
2 minced garlic cloves
1 tablespoon butter.
6 tablespoons extra virgin olive oil
1/4 cup freshly sliced parsley
1 tablespoon fresh lemon juice
1 tablespoon chopped fresh parsley
Chinook Salmon fillets (1 per person)
1 teaspoon sea salt
1 teaspoon freshly ground black pepper
Start by seasoning your boneless, juicy Chinook Salmon Fillet with the olive oil,  ground black pepper and sea salt. Finely dice the garlic and add to the butter (you can supplement for garlic butter if you wish) add to the pan with 2 tablespoons of olive oil. Sear both side of the salmon with a high heat and drop the temperature as soon as you turn the second side, add the freshly sliced parsely and lemon juice and put a lid on the pan while on simmer.
Steam the asparagus and sear in a pan just before serving, with care not to overcook the asparagus!
Add white wine vinegar to boiling water in a deep saucepan, with a wooden spoon, stir the water clockwise to create a gentle flow around the pan before cracking an egg into the saucepan. Leave for several minutes until cooked and drain for serving.
Ingredients for Hollandaise:
½ cup butter
⅛ teaspoon salt
3 large egg yolks
Dash cayenne pepper or hot sauce (optional)
2 tablespoons hot water
1 tablespoon plus 1 teaspoon fresh lemon juice
Finely chopped fresh parsley for garnish
Separate each yolk from the egg white and whisk/beat the yolks in a small bowl with salt and lemon juice. Add butter to a saucepan on a high heat until foamy, but not browned. Gradually add the hot butter into the mixing bowl with the yolks while mixing thoroughly avoiding pouring the butter too fast. Return mixture to saucepan once in the bowl and add the pan back onto a low simmering heat while stirring the mixture constantly for several minutes to heat gently.
For the best presentation, add the seared asparagus to the plate first, then the salmon on top, either cover both with the hollandaise or serve in a separate small jug, add the poached egg and a sprig of parsley for the final touches.
Proscuitto wrapped Halibut with Bubble and Squeek
Our Favourite Halibut Dish!
We here at WardoWest, LOVE Halibut, where many of our guests share the same views. It is a season classic and our favourite way to compliment this tasty fish it is to wrap it in prosciutto for an outstanding texture, flavour and presentation.
Ingredients for the Halibut:
2 8 oz halibut filets
4 piece proscuitto, thinly sliced
4 sprig Thyme
2 sprig Sage
2 teaspoon crushed black pepper
2 Tbsp olive oil
2 Teaspoon Sea Salt
Rub the deboned halibut fillets with olive oil and for each fillet add a sprig of Sage and 2 sprigs of Thyme to the top of the fillet with the salt and pepper. Lay the 2 pieces of Proscuitto overlapping on a flat surface and add the Halibut on top. Gently but firmly wrap and roll the Halibut fillet ensuring most of the fish fillet is covered with the prosciutto. (You can add a toothpick to stop the prosciutto from unwrapping if you like.
Our Recommended Suace:
There are many different sauces that can accompany this dish, however our favourite has to be a garlic mushroom, red wine sauce.
Ingredients for the Sauce:
2 Tablespoons unsalted butter
4 medium cloves of garlic
1/3 cup heavy cream
1 bunch fresh parsely (finely diced)
1/2 teaspoon of dried oregano
2 tablespoons freshly ground parmesan
16 Oz sliced mushrooms
Salt and Pepper to taste.
There are many different sauces that can accompany this dish, however our favourite has to be a garlic mushroom, red wine sauce.
Start by crushing the garlic into a saucepan with virgin oil and add butter. Add the sliced mushrooms and cook for 1-2 minutes before reducing the heat to a simmer and adding the cream. Add the parsely, Parmesan, Oregano to the cream and lastly add the salt and pepper to taste.
This dish is extremely tasty and serving this Halibut an English bubble and squeak cake is the ultimate way to make a large portion and add another depth of flavour.
Bubble and Squeak Cake:
1.5lbs potatoes (russet or Yukon golds are ideal for mashing)
1/5 cup heavy cream
1/3 cabbage
4 rashes of bacon
2 tablespoons of unsalted butter
Salt and pepper to taste
1/2 bunch parsley
5 tablespoons of ground parmesan
Fry the bacon until it is crispy. Slice the cabbage and boil until cooked and add to the bacon. Boil the potatoes until they are cooked so you can put a knife through them with no starch left on the knife.
Drain the potatoes while hot and add to a large saucepan or bowl for mashing. While mashing the potatoes add the cream, cooked bacon and cabbage, parsley, butter and the salt and pepper to taste. Make the cake into a rounded shape and add parmesan to the surface. Bake the whole cake at 350 degrees until browned.
Serve this dish by adding the bubble and squeek cake to the plate, building height by adding the prosciutto covered Halibut Fillet and add the creamy garlic mushroom sauce on top (or serve in a small jug if preferred).