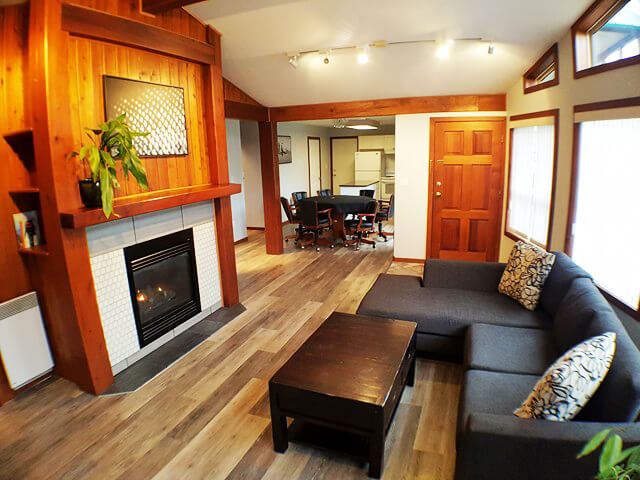 Tofino Accommodations
WardoWest is pleased to offer our fishing guests a comfortable and luxurious stay at our lodges with the choice of two locations in Tofino. We take pride in our lodges and know the importance of offering a clean, comfortable stay. There's nothing better than relaxing in the jacuzzi after a good day of fishing!
Closest to Town and the Dock..
Dockside Lodge
Dockside Lodge is the newest addition to compliment the WardoWest Sportfishing fleet. It has a number of different suites that can interconnect for larger groups and also offer private accommodation for couples and smaller groups.
This lodge is located just a stones throw away from the dock where we depart for our fishing adventures. It is also within a few minutes walk from the centre of Tofino, making it ideal to take full advantage of the bars and restaurants Tofino has to offer.
Dockside Lodge overlooks the beautiful inlet waters, with snowy mountains as a stunning backdrop. Sit outside on the patio, enjoy a bbq and relax in the jacuzzi at this location before adventuring out with WardoWest for a memorable fishing experience.
Each suite is a different size and offers the option of a twin room or queen room, therefore we recommend you contact our booking manager to ensure we can find the best options for your specific booking at this popular lodge.
A Relaxed Lodge out of Town
Red Cedar Retreat
Red Cedar Retreat has been in the WardoWest family for several years already, this popular accommodation has multiple queen or twin rooms available in a shared amenities style lodge. There is a manager living at this lodge to ensure everything is kept clean and to the highest standard, with a point of contact regarding any information for your trip.
Red Cedar offers a large shared living room where all fishing guests can relax, watch films, play cards and get to know each other more. There is a great vibe at this retreat with an outside BBQ, large jacuzzi and a unique fire pit to enjoy a true tofino experience.
The Red Cedar Retreat is located in a quieter area with just a 5-10 minute drive to the Dock and the centre of Tofino.
The Retreat has good Wifi, a fully functional shared kitchen and an ample amount of bathrooms for our fishing guests. Please contact our booking manager with your group size and if you would like a queen bed or a shared two twin room for your stay.